Plantronics CS530 Over-the-ear Noise Canceling Wireless Headset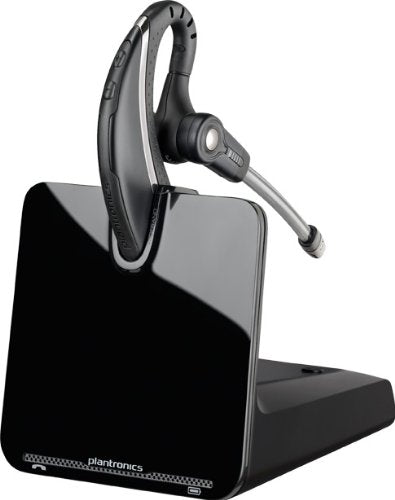 Description
Superior call management
With one-touch call answer/end, vol+/-, and mute, manage calls from up to 350 feet from the charging base. The CS500 system also enables you to conference in up to three additional headsets for easier collaboration and guest headsets can subscribe to a base by simply docking the headset. Use with Electronic Hook Switch Cable or Handset Lifter to remotely answer/end calls.
Power in the base
A sleek charging base is included with the CS500 Series. An adaptive power system optimizes for range and talk time by automatically downshifting to low power when the headset is close to the base to save battery life.
HIGH QUALITY HEADSET: Wideband audio quality includes superior technology that eliminates Wi-Fi interference and acoustic protection against audio spikes.

SUPERIOR RANGE: Wireless multitasking is easy with DECT 6.0 technology, allowing you to clearly communicate up to 350 feet away from your desk.

LIGHTWEIGHT DESIGN: Sleek design for the most comfortable and lightest DECT headset on the market and includes one touch controls to answer or end calls.

LONG LASTING BATTERY: Offers 6 hours of talk time and features an energy efficient adaptive power system to conserve battery life. Audio performance: Narrowband or wideband: up to 6,800 Hz

ADVANCED MICROPHONE TECHNOLOGY: Wireless headset includes an extended boom to improve microphone quality and features noise-canceling microphone that reduces background noise.
Plantronics CS530 Over-the-ear Noise Canceling Wireless Headset
Regular price $229.95 Sale $329.95