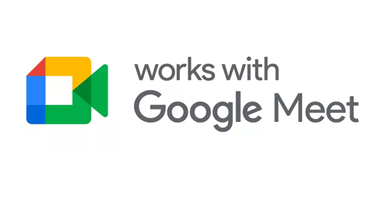 Google Meet Certified Headsets: What You Need to Know
Things can get pretty brand-specific in the world of audio and video equipment designed for the modern remote worker. In the good old days, you could simply buy a standard headset or webcam, plug it into your laptop and use one of a couple of platforms to engage in communication or computer phone calls. Things were so much simpler.
Of course, back in those good old days, hardly anybody had a constant need for softphone platforms, webcams, and quality headsets with incredibly advanced levels of technology. People met face-to-face, and when a phone call was warranted, it either happened via speakerphone or using call center software that wasn't available to just anybody.
Brand-Specific Offerings
Fast forward to our present office setting, and the current office isn't your typical office at all. Most workers have made the transition to at-home offices, which has led to a couple of major occurrences.
First, the need for quality audio and video equipment for corporate and office-based communication is mandatory. When you're working from home, the need to stay connected with coworkers that are still in the office, as well as clients across the country, becomes your lifeline.
Second, what happens when the demand goes through the roof for any consumer or business product? Naturally, the supply is increased to keep up with the demand. But that's not the only thing that happens from a production standpoint.
When a particular segment of any industry grows, naturally, companies that may not have had their hand in producing these products or services want a piece of the pie. Not only do they want a piece of the pie, but they want to corner a certain portion of the market by making their products or services exclusive and only compatible with other products or services. 
The end result is that customers become forced to make a decision on which companies products they want to use. Perfect examples of this are Apple, the iPhone, and App Store against Android, Google, and the Play Store. Another example would be Apple and Mac operating systems taking on Microsoft and Windows operating systems.
Now, it seems this competition has made its way into the audio and video hardware industry as the demand for components is through the roof because of remote workers. Additionally, it seems as if the usual suspects are players in the game, with companies like Microsoft and Google putting their prints on certain products, effectively splintering the market and forcing equipment manufacturers to produce items exclusive to certain platforms.
One of the best examples of this is Google Meet. Only specific types of headsets are available for use on this platform. Before explaining the requirements Google demands out of headphone manufacturers, it serves to understand what defines the Meet platform.
What Is Google Meet?
Google Meet is another offering in the constantly growing list of the tech giant's programs and applications available to anyone with a Google account. Meet is designed as an alternative to communication platforms like Zoom, Microsoft Teams, and other communication and collaboration platforms that serve the corporate and business world, giving workers the ability to conduct digital meetings, classrooms, and other collaborative communication environments.
Short for Google Meetings, Meet is one half of the twin offering of Google Meet and Google Chat that was birthed from the old favorite Google Hangouts. Google Hangouts began as a normal old online phone platform, allowing users to obtain a phone number and make calls over Wi-Fi connections.
Hangouts allowed multiple users to participate in phone conversations without the need for confusing conference calls that required the use of landline or personal cell phone numbers. Users could take advantage of their Hangouts number, dedicating it strictly for use on the platform as a convenient way to communicate.
However, the need for a business alternative for communication led to Hangouts morphing into Google Meet and Google Chat, giving the corporate world the ability to include up to 30 participants in a text or voice-based virtual meeting environment. All of these are tied into the original Google communication
Google Meet is developed strictly for communication on a voice and video chat platform that allows for effortless participation. Alternatively, Google Chat is designed for quicker, chat-based communication for team projects.
Because of the business focus of Google Meet, only certain types of headsets are compatible for use on the platform. Google even has its own set of standards that manufacturers must follow when developing a headset that meets Google's strict criteria.
Before being approved, vendors must do the following:
Prove they have a legitimate and long-term interest in building Google Meet hardware
Sign Google's co-development agreement
Meet all test criteria to ensure the necessary specifications are included in prototypes
Complete qualification testing in a Google-approved lab
Integrate open-source firmware and associated tests into Chrome OS for cameras and speaker microphones
If you have the goal of using Google Meet for your organization's meeting and communication needs, you should be aware of the compatible headsets that make up your options.
Google Meet Compatible Headsets
The following models are currently compatible with the Google Meet platform.
Bose
Bose Noise Canceling Headphones 700 UC
EPOS
IMPACT® SC 635
IMPACT® SC 630 USB
IMPACT® SDW 5065
IMPACT® SDW 5066
ADAPT® SC 160
ADAPT® SC 165
ADAPT® 360
ADAPT® 460
ADAPT® 560
ADAPT® 660
EXPAND SP 30+
Jabra
Evolve® 40 (wired)
Evolve® 75 (wireless)
Evolve2® 30 (wired)
Evolve2® 40 (wired)
Evolve2® 65 (wireless)
Evolve2® 85 (wireless)
Speak® 750 (wireless)
Logitech
Poly
Blackwire® 5220
Savi® 8220
Savi® 8240
Savi® 8245
Sync® 20
Sync® 40
Voyager® 4210
Voyager® 5200 UC
Voyager® 6200
Voyager® 8200
Jabra is among the leaders when it comes to the production of quality headsets with Google Meet compatibility. There are several options on the list with different designs, ensuring that a model exists that provides comfort to various users based on preferences and requirements.
There are options that are manufactured with an ear-bud design if that style of listening device is more comfortable on your ears. However, several models have larger, headphone-style designs with padded coverings to promote comfort and natural noise-cancelation.
When you want a headset that provides clear outgoing communication with crisp incoming elements, get a quality brand that's compatible with a quality platform. Jabra and Google Meet form the perfect combination for a professional high-quality communication environment.